Version 30 - Modding Update
---
Version 30 is out now on all platforms except iOS (which will be out in an hour or two).
What's New
Modding Support
You can now modify game data such as card arts, sounds, playmats, as well as add your own cards. You can find some starting guides here, with more guides being added very soon. This is just the start of modding support, with more advanced support to come in the next few updates.

You will be unable to play on official online servers if your game logic is different than the server. However, you can host a game yourself using Local Lobbies and still connect online that way!
One of the guides show you how to change the card art for the Lion Cub card:
New Hero: Cawn, Flourishing Adventurer
A new hero has been added, with all 4 affinities. However, this hero has less Deck Points as other heroes, which means you can only add less powerful cards compared to other heroes, and it has no hero powers. Hero powers will likely be added in a future update.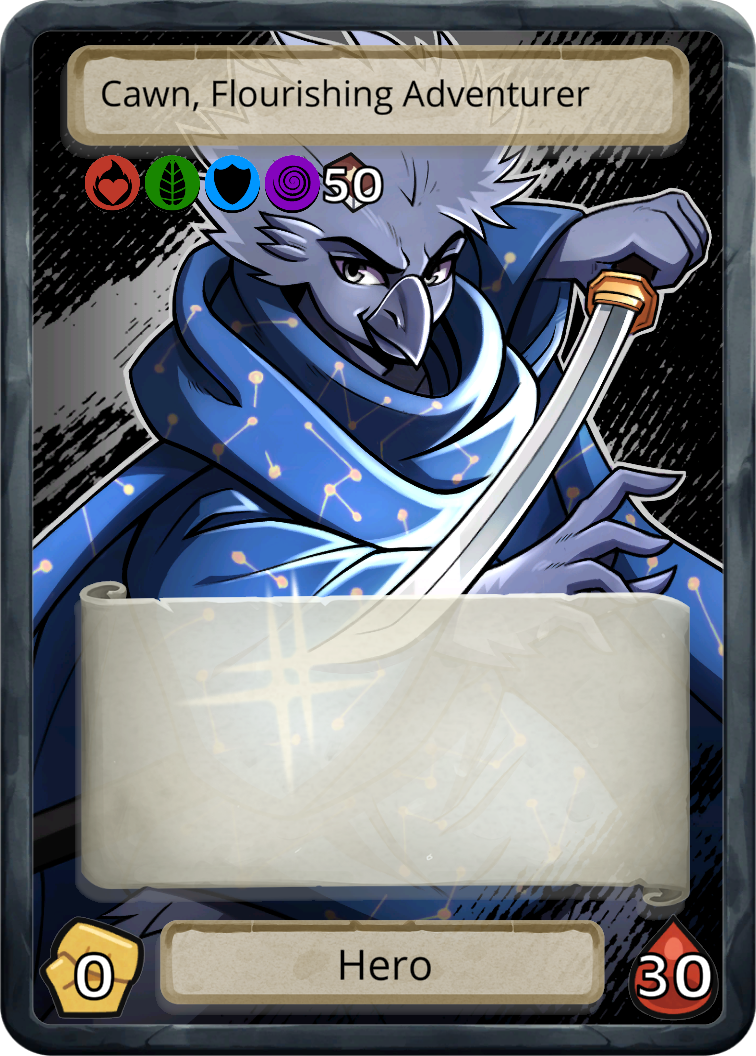 Emote System
You can now emote while playing! The current text for the heroes will be refined in the coming updates.
New game mode variations and game mode sharing
There are now new default game mode variations:

Big modes, where you start at 10 resources
Take Two duel, where you pick two cards and get 15 copies of them
You can also share custom game modes with friends in the rule settings screen. Just send the share code to your friends, and they'll be able to add the mode to their collection in the game mode list screen!
Other Changes
Cards now tilt while dragging
Guardians now guard even while resting
There's a new default forest playmat
Improvements to mobile
New card backs can be picked when you pick the playmat for your deck
CPU is slightly smarter
There's a new hero picker
You may now pick your hero in Explorer mode
New game over screen
Final Words
This was a long but exciting update, taking over three months to finish. I'm very excited for the future of the game, and I can't wait to bring you more! I'd love to hear your feedback in my discord, reddit, or facebook!

Files
Windows (Development)
381 MB
Linux (Development)
385 MB
macOS (Development)
303 MB
Android (Development)
294 MB